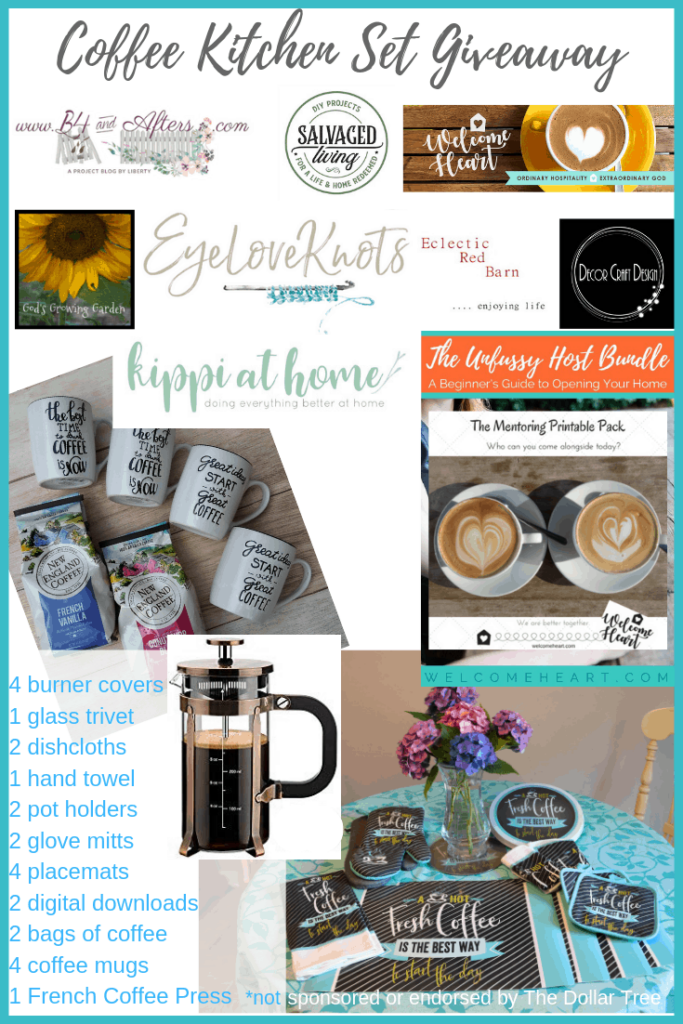 Hello Fall and Hello to Coffee! Beautiful season to enjoy a cup of coffee! My dear blogger friend, Liberty with her wonderful blog B4 And Afters has invited me to join her Coffee Blog Tour with amazing giveaway for you to win!
Today I am excited to share with you a very special Coffee Blog Tour. Eight bloggers joined together to share with you all of our best Coffee Themed Posts. I hope that you will find a ton of Inspiration about all things Coffee– crafts, printables, DIY projects, recipes, decorating ideas, and of course– COFFEE! If you or someone you know Loves Coffee, then this is a Dream Come True! #coffeeblogtour
Coffee Blog Tour
It all started when one of us noticed these cute Coffee themed items at the Dollar Tree.
(For more information about the Giveaway, see the rest of this post. *This post is not sponsored by the Dollar Tree– they just happen to be the store that carries these items.)
Burner Covers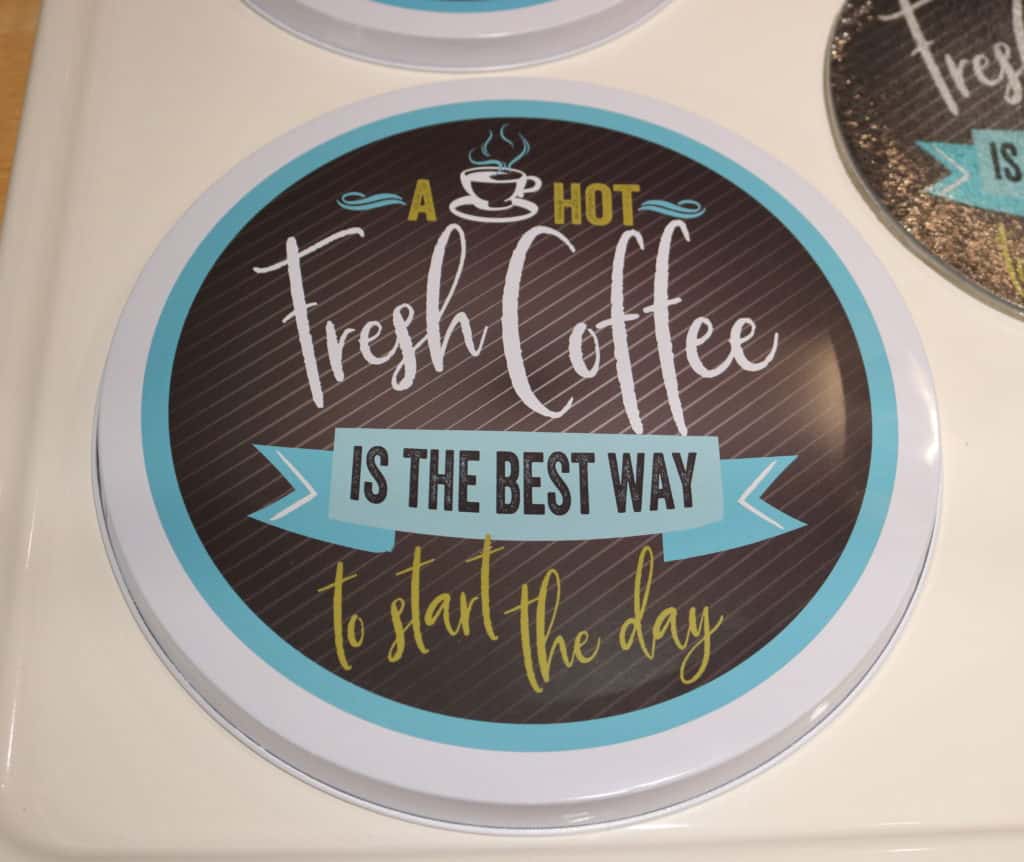 Did you know that for $1 you can get TWO burner covers at the Dollar Tree? They come in a set with one large and one small cover.  (If you don't have an electric stove, Click Here to see a totally different way to use these covers.)   Once you notice the covers, then you might notice other coordinating items, like dishcloths, and potholders.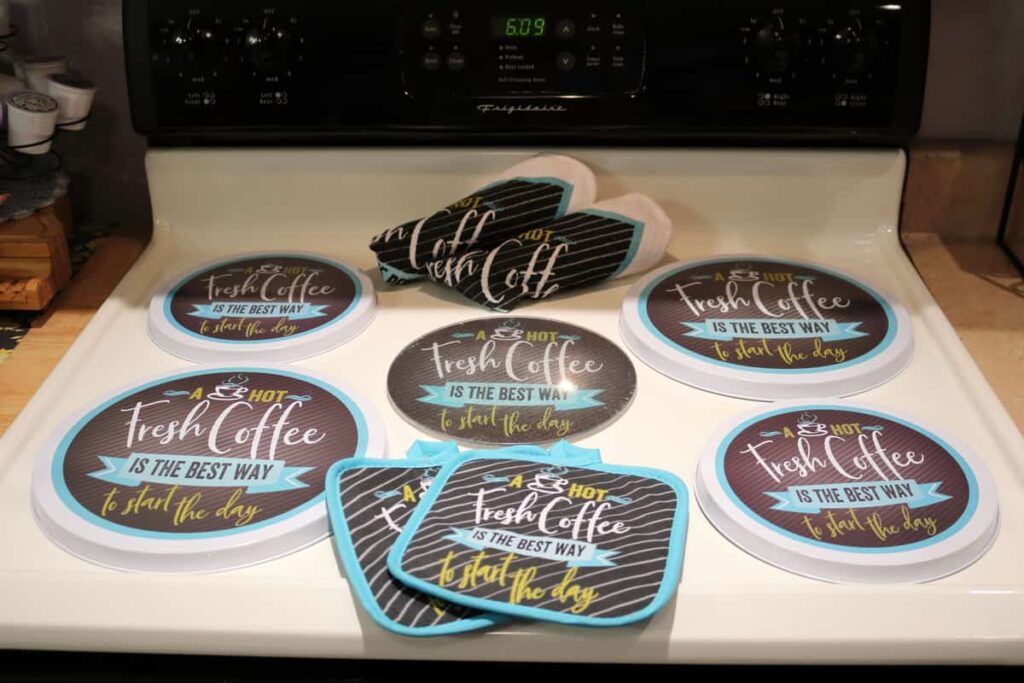 There are even oven mitts.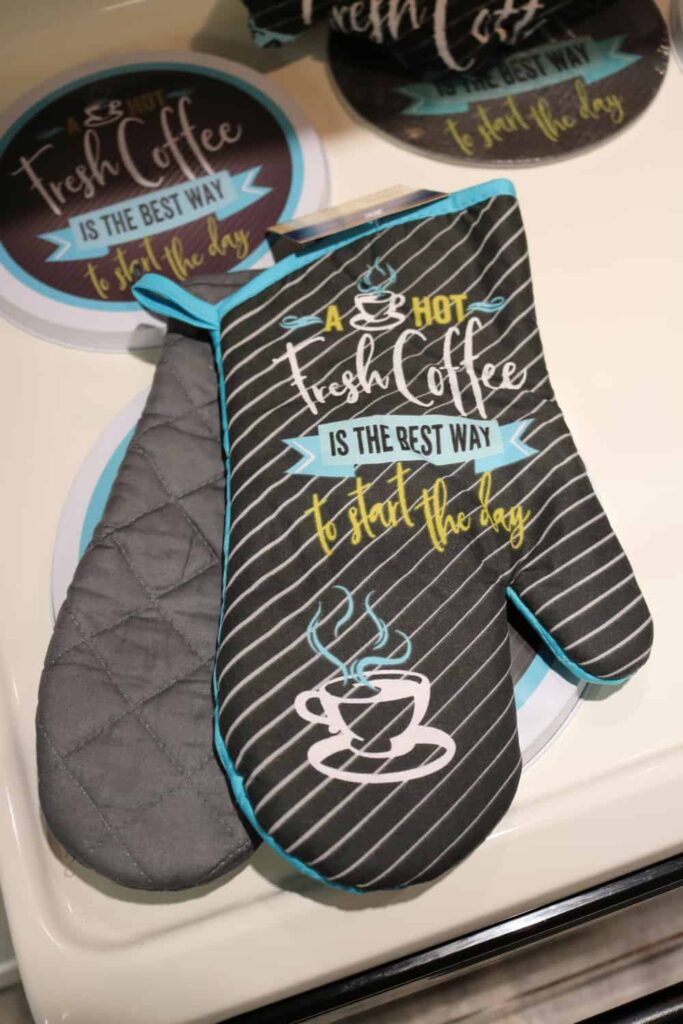 Here is a glass trivet or cutting board.  You may need to travel to different Dollar Trees in your area to find all of these coordinating pieces.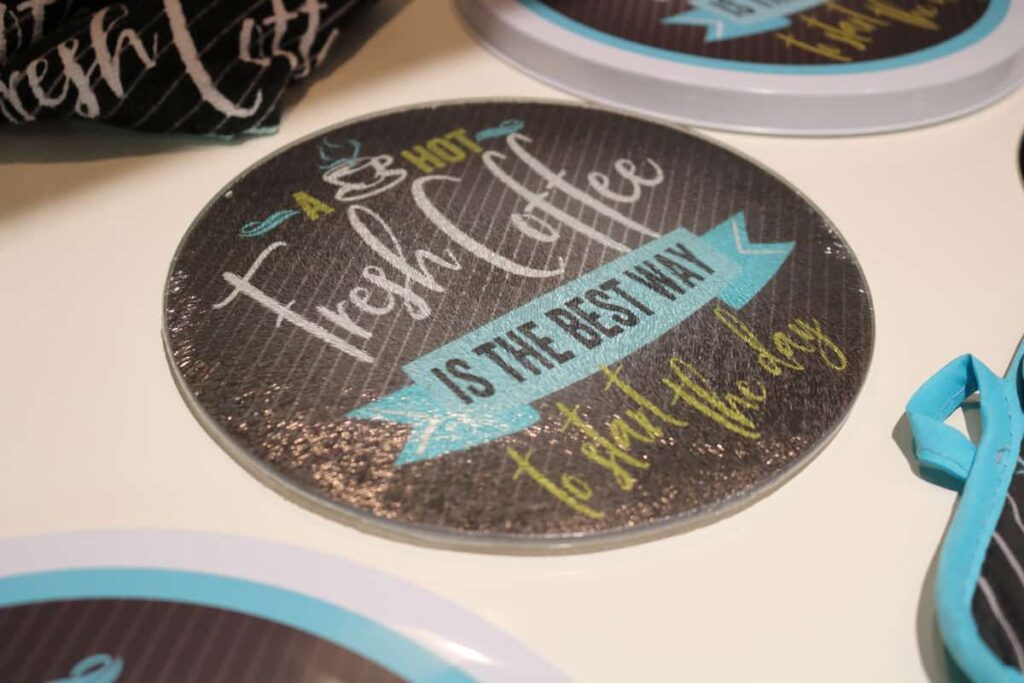 Here is a matching dish towel.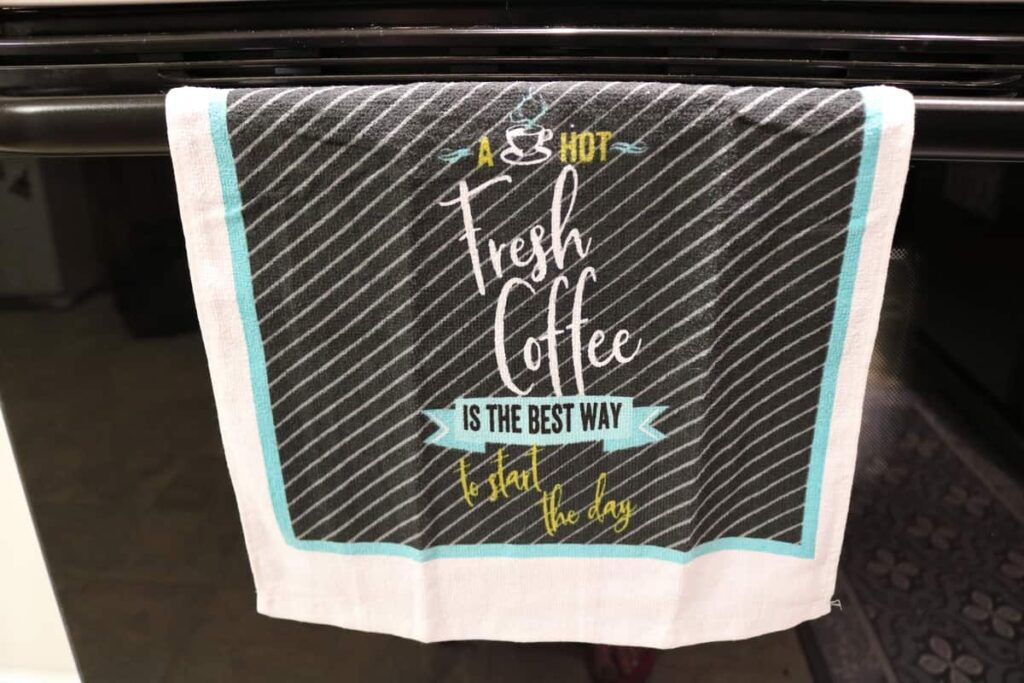 The other side of the Coffee oven mitt is a bright solid color.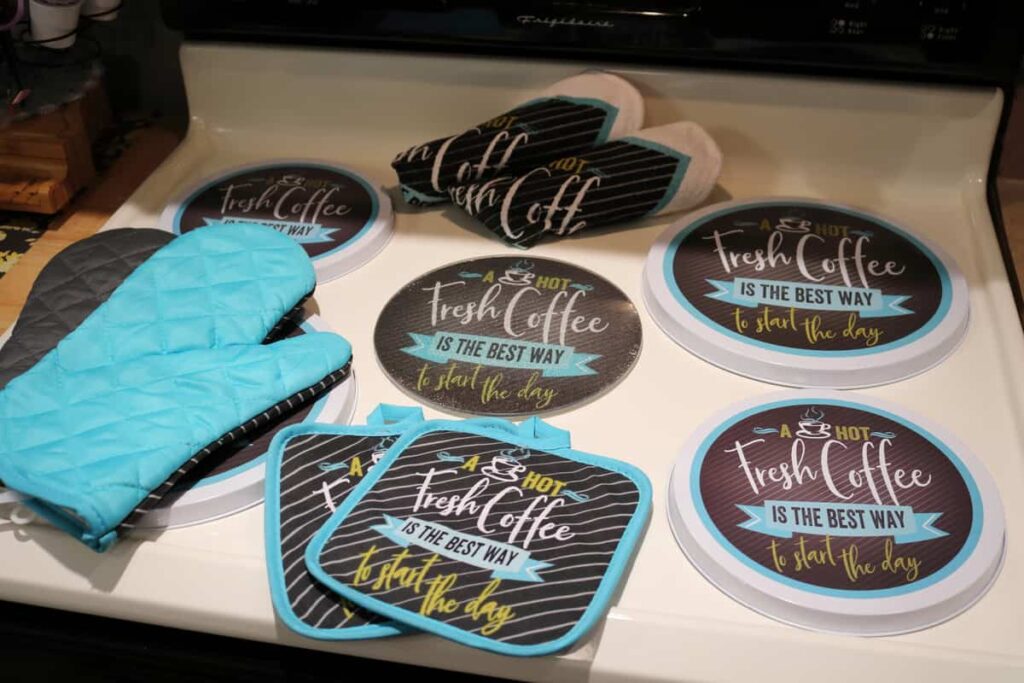 There are other themes to choose from at the Dollar Tree store, also, like "Our Nest is Best" or "Wake up and Smell the Coffee."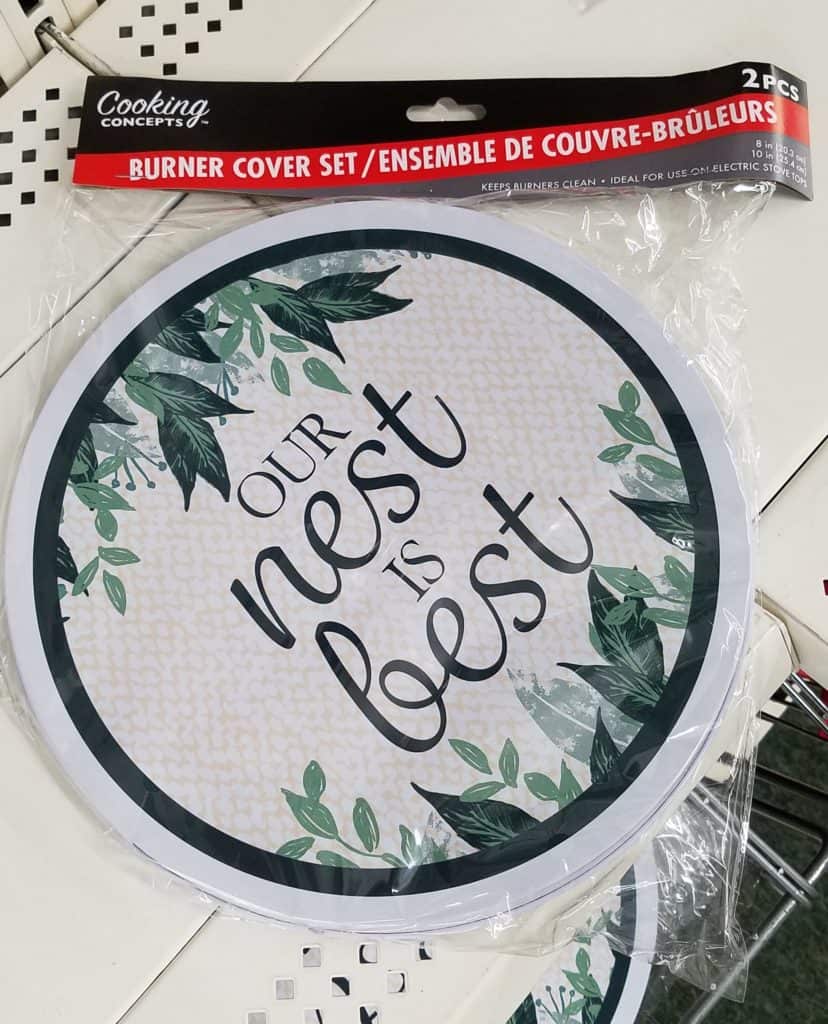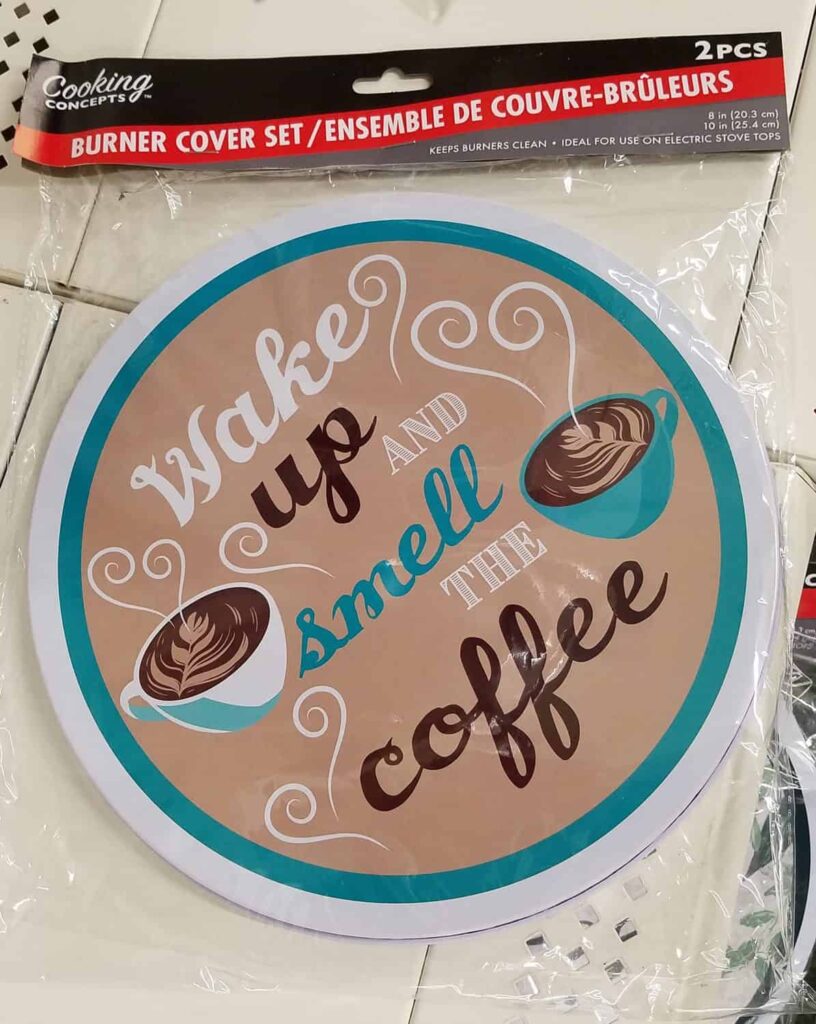 "A Hot Fresh Coffee is the Best Way to Start the Day" Coffee Themed Set from the Dollar Tree (donated by Liberty from B4andAfters) is just part of our Giveaway! But wait– there's more!!
Alexandra from Eye Love Knots has added these 2 bags of coffee and 4 cute mugs to our Coffee Themed Giveaway!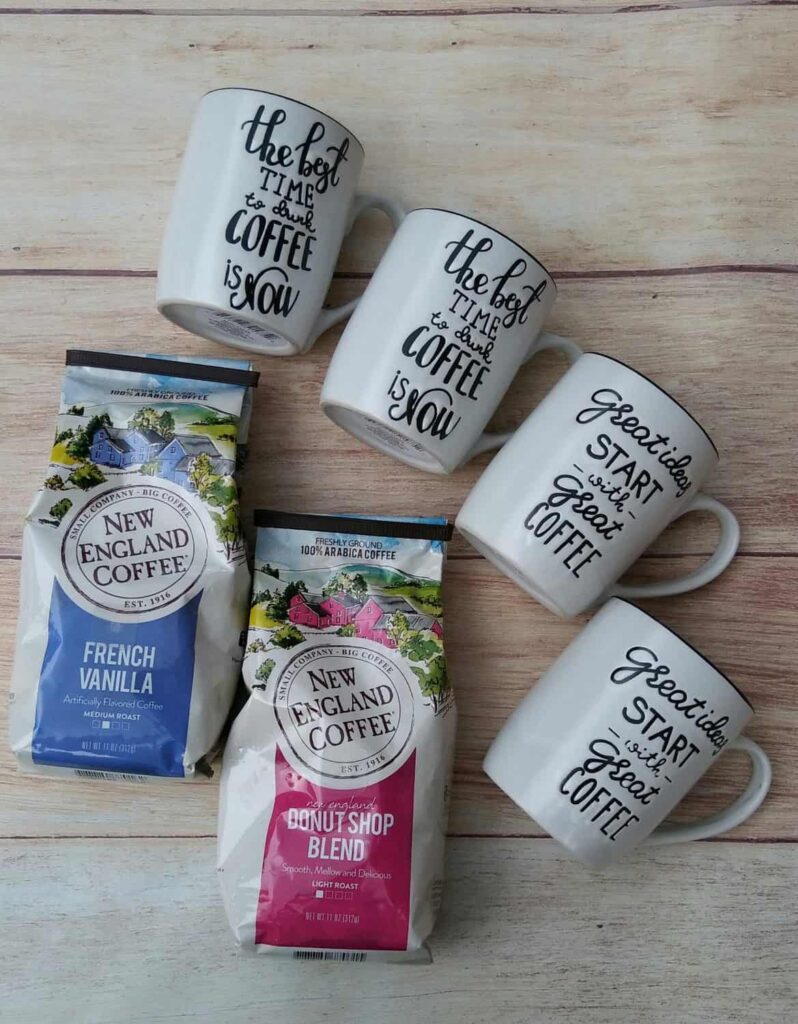 There are a couple more things in our giveaway, but before I show them to you I want to take you to the #coffeeblogtour you've all been waiting for.
Coffee Blog Tour
Do you have a Coffee themed post that you would like to share with us? Add (hashtag) #coffeeblogtour to your social media share!
*Click on the links below each collage to go to the specific post.
How To Make Your Home Naturally Smell Good With A Can Of Coffee Beans
Take A Coffee Break Quote Painting
How To Make DIY Painted Coaster From Ice Cream Sticks
Coffee Printables Kitchen Coffee Station Easy Coffee Cake
      Almond Biscotti        Moist Chocolate Cake
Coffee Creme Brulee       Homemade Coffee Crisp Ice Cream        Orange Mocha Meringue Tarts
Blackberry Streusel Nut Coffee Cake
Stranger Things Coffee Mug Cut File
Now on to the rest of the Giveaway Items!!!! We also have this French Coffee Press, donated by Kippi from Kippi at Home!!
Our Giveaway concludes with this Digital Download from Sue at Welcome Heart.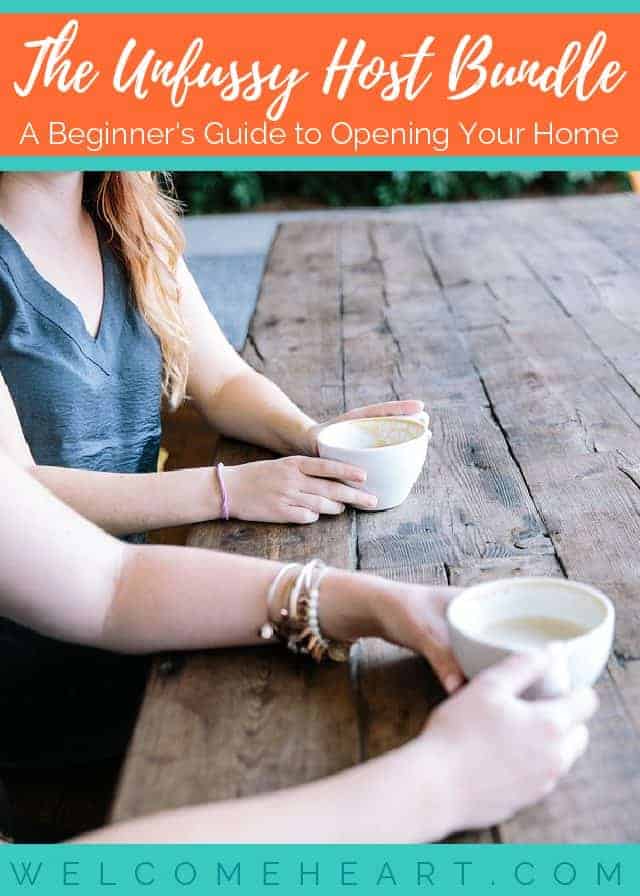 Sue has also included this Printable to help encourage you in your hospitality endeavors.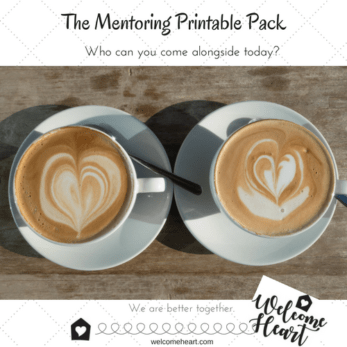 We thank all of our bloggers for their generosity for this giveaway!!
Please help us spread the word about our #coffeeblogtour and giveaway!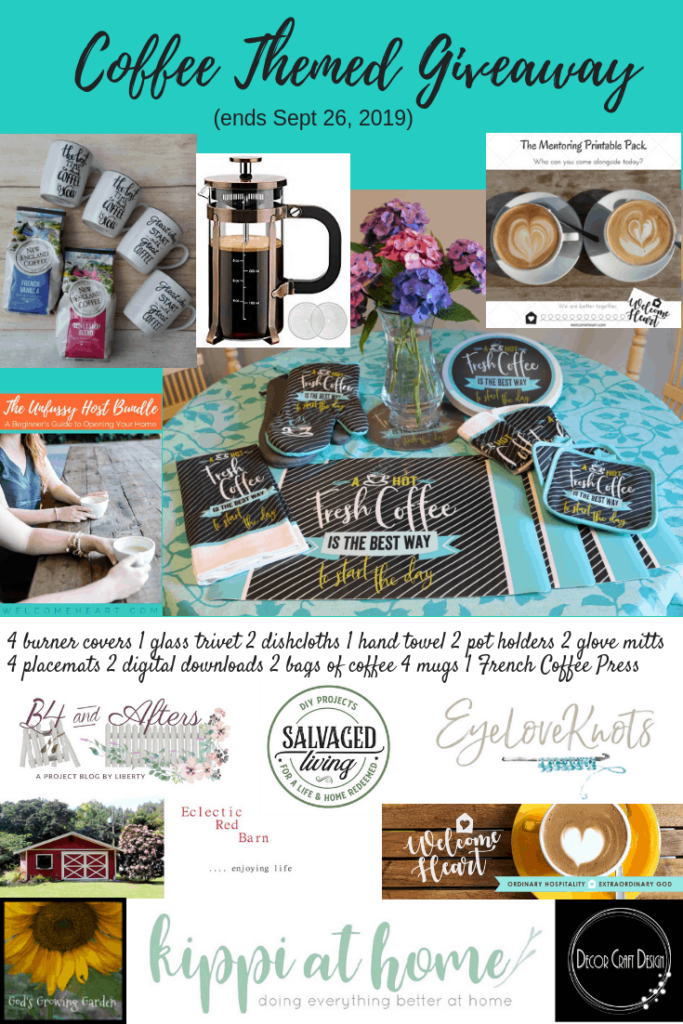 Now– for various ways to enter this Giveaway just click on the Rafflecopter below. (Your email will only be used to notify you if you are the winner.)
#CoffeeBlogTour
Thank you for participating! We appreciate all of our readers and are excited to offer this Coffee Themed Giveaway to you.
For more of my future Welcoming Fall season posts, please follow me! And if you wanted to add my creations to your Pinterest boards, please follow me on Pinterest! Also find me on Instagram and Twitter!
See you!
Mel